Spa Du Lac
The 8,700-square-foot spa houses eight facial, massage and custom body treatment rooms; men's and women's private locker rooms, saunas, whirlpools and vanity areas. Pure bliss is waiting.
Caption Goes Here
Lake Charles Spa
RESERVATIONS & SERVICES
Call 337-395-7768. In-house, extension 7768.
Cancellation Policy: We value your business and appreciate your cooperation with Spa du Lac's cancellation policy. Appointments must be canceled 48 hours in advance to avoid additional charges. Appointments that have not been canceled will be charged 100% of the fees for the scheduled service.
HOURS for spa & fitness center
SUNDAY: 9 a.m. – 5 p.m.
MONDAY: 9 a.m. – 5 p.m.
TUESDAY: 9 a.m. – 5 p.m.
WEDNESDAY: 9 a.m. – 5 p.m.
THURSDAY: 9 a.m. – 5 p.m.
FRIDAY: 9 a.m. – 8 p.m.
SATURDAY: 9 a.m. – 8 p.m.
Arrival & Check-In Procedure
For the optimal spa experience, we recommend that you arrive at least 30 minutes prior to your scheduled appointment. This will give you time to relax and change into the robe and slippers we will provide for you as well as enjoy our luxurious amenities. We recommend showering before your appointment in order to receive full treatment benefits.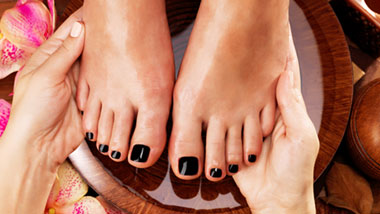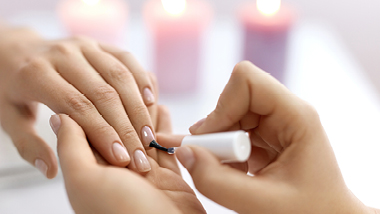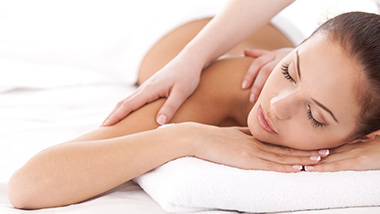 SWEDISH MASSAGE
A relaxation massage using light to medium pressure to decrease stress and melt tension.
50-min $135 | 80-min $190
THERAPEUTIC MASSAGE
A customized strong pressure massage that targets deep layers of tissue for relief of muscle pain and tension. Share your greatest area of tension with your technician during your wellness consultation.
50-min $160 | 80-min $210
QUICK-FIX MASSAGE
Tight neck? Tense shoulders? Your therapist will customize the massage to your specific zone of tension.
25-min $80
TWO'S COMPANY MASSAGE
Customized to each guest, with relaxation in tandem… Enjoy a glass of complimentary champagne before you begin your relaxation or therapeutic massage.
Available in 50- or 80-minute sessions. Pricing based on combination of Swedish and Therapeutic; please see massage pricing or discuss with a spa attendant for your best massage recommendation.
MOMMY-TO-BE PRE-NATAL MASSAGE
Designed for the body changes during pregnancy while offering needed relaxation, this treatment is available for mothers-to-be in their second and third trimesters.
50-min $130
HOT STONE MASSAGE
The radiant warmth of the smooth stones penetrates tension, inducing deep relaxation. Combined with other massage techniques, this experience will destress and restore you.
80-min $205
HEAD, HANDS & FEET MASSAGE
Release tension through your scalp, hands and feet. Improve circulation and restore energy flow with an invigorating scrub, warm towels and essential oils.
50-min $130
FLAME MASSAGE
Customized to you, each candle used in your massage uses essential oils and luxurious emollients, leaving skin silky smooth and irresistibly scented. You'll receive the remainder of the candle to take home with you.
80-min $210
MASSAGE ENHANCEMENTS
• Essential Oils +$20
• Dry Brushing +$20
• Pain Relief +$20
• Theragun - Percussive Therapy +$20
Tips for a more enjoyable massage experience include:
• Take a warm shower before your service to relax muscles and prepare for your treatment.
• Massages are best received completely undressed. Your body will be professionally draped at all times.Please communicate any discomfort with your therapist.
• During your service we welcome you to close your eyes, breathe slowly and deeply. Plan to drink plenty of water and relax for the rest of the day
SPA DU LAC PEDICURE
In this classic pedicure, a foot soak with natural healing and relaxing elements starts your experience. Exfoliation, nail trim, filing, a moisturizing foot massage and your choice of color complete this journey.
50-min $95
GEL PEDICURE
Enjoy extended wear and ultimate shine in your polish! Includes the color of your choice, file, trim and relaxing foot massage.
50-min $110
EXPRESS MANI & PEDI
Each 25 minute service allows us to trim, shape & buff your nails. Your treatments are then finished with a soothing massage and a choice of nail color.
50-min $120
SPA DU LAC MANICURE
In this classic manicure, soaked, trimmed and buffed nails are completed with a moisture restoring hand massage and the color of your choice.
50-min $75
GEL MANICURE
This upgraded manicure uses gel polish to provide superior shine and extended wear! Includes the color of your choice, file, trim and relaxing hand massage.
50-min $100
NAIL ENHANCEMENTS
• Polish Change $40
• French Polish +$15
• Paraffin Hands or Feet +$20ea
Add a paraffin treatment to any nail service for the ultimate luxury and deep moisturizing
SUGAR BABY BODY SCRUB
Brown sugar from Louisiana sugar cane paired with soothing milk and vanilla scrub away stress and dry skin. A warm honey mask helps to infuse the skin with moisture and healing elements. After showering, your therapist will apply a vanilla shea butter with relaxing massage strokes.
50-min $145 | 80-min $200
80-minute service includes extended massage
ORGANIC BODY ESCAPE
Each season we choose the most fragrant, indulging combination of scrub or wrap, cream or oils to renew, moisturize or infuse your skin with what it needs, especially for that time of year.
50-min $180 | 80-min $225
80-minute service includes extended massage
COFFEE BODY GLOW
Awaken your skin with our signature coffee scrub to reduce the appearance of cellulite and reveal glowing, firm skin. To further absorb the antioxidant and hydrating properties a shea body butter is applied, after showering.
50-min $145 | 80-min $200
80-minute service includes extended massage
SEAWEED WRAP UP
A refreshing full body dry brush exfoliation followed by a seaweed detox mask soothes and smooths your skin. A Scalp and foot massage accompany the warm wrap. A vitamin-enhances apricot oil is applied after your shower helps seal the nutrients into the skin.
80-min $210

All body treatments require the guest to be fully undressed. You will be offered disposable undergarments and professional draping will be used by the therapist. Please shower before your treatment to prepare the skin and plan not to shower after the service as the elements used will continue to benefit your skin for up to 24 hours.
SPA DU LAC CUSTOMIZED FACIAL
A rejuvenating signature treatment customized to your needs, this facial utilizes luxurious products and advanced techniques. The 80-minute version may include a specialty facial massage or treatment depending on your skin's specific needs and desired results.
50-min $135 | 80-min $190

SIGNATURE HYDRAFACIAL
This treatment deeply cleanses, exfoliates, extracts, and hydrates the skin utilizing super serums filled with antioxidants, peptides, and hyaluronic acid.
45-min $199
DELUXE HYDRAFACIAL
An invigorating treatment that includes all of the essentials of the Signature HydraFacial while addressing your specific skin concern with a Booster of your choice. This treatment concludes with Celluma LED Light Therapy to further reduce the visible signs of aging.
75-min $275
CHEMICAL PEEL TREATMENT
Consult with your skin care provider to choose the perfect peel for your needs. Choices include AHA, BHA, TCA, or Lactic Acid Peel.
50-min $155+
MICRODERMABRASION
This non-invasive treatment improves cellular turnover, detoxifies skin and allows skin cells to flourish, restoring natural glow. Soothing products are used to replenish moisture and nutrients to the skin. Recommended for most skin types.
50-min $180 | 80-min $225
FOUNTAIN OF YOUTH FACIAL
This addresses anti-aging, firming and smoothing for visible results. Customized by your technician to your skincare concerns. The 80-minute version may include microcurrent or additional techniques to achieve desired results.
50-min $160 | 80-min $215
HEALING BACK FACIAL
Get your back and shoulders ready for showing off. Luxurious products used for exfoliation, a detoxing mask and a skin consultation from your technician will start the healing process.
50-min $135
JESSNER'S PEEL
A medium depth peel designed for rapid, deep skin exfoliation. Jessner's solution contains Lactic and Salicylic Acids as well as Resorcinol, an ideal treatment for aged, acne prone, or hyperpigmentedskin. It may also be used to soften superficial scarring.
50-min $205
*Must consult with your skincare provider before treatment. Not intended for dry or sensitive skin.
QUICK FIX FACIAL
Refreshing mini facial which includes cleansing, mask, and moisturizer. Perfect for maintenance between skin treatments and people on the go.
25-min $80
SKINCARE ENHANCEMENTS
• Chemical Peels +$25 and up
• Enzyme Treatments +$25 and up
Chemical peels and enzyme treatments may not be suitable for all skin types. Please consult with your technician.
• The Eyes Have It +$20
• The Lips Treatment +$20
• Lash Tinting +$20

+denotes an add-on option to any 50-min or longer service, or a service that may have extended pricing due to product or service type needed to achieve desired results.
PERFECTLY RUGGED FACIAL
A deluxe treatment designed to address the unique needs of men's skin. Utilizing gentlemen's products developed with advanced formulas for noticeable results, this facial treatment incorporates specialty massage techniques, steamed towels as well as hand, arm, neck and shoulder massages. The 80-min version may include unique masks or microcurrent.
50-min $150 | 80-min $195
MEN'S EXPRESS EYE LIFT
Added to a Perfectly Rugged Facial, this eye specific treatment targets fine lines and wrinkles in around the eyes. Cool, soothing tools and products are used to combat puffiness and under circles.
+$20
Our full service salon provides hair, nail, makeup and waxing services using the most luxurious and results-oriented products and techniques. Please consult with your stylist to determine the best salon experience for you. All guests with a 50-min or longer service in the salon are also welcome to enjoy the spa amenities the day of their service.
EXPRESS CONDITIONING
Added to any hair service, this added nourishment for your hair and scalp will leave your locks smooth and silky.
+$40
DEEP CONDITIONING
Restore natural balance to your hair and scalp for more manageable styling, damage repair and ultimate shine. Includes a shampoo and style.
50-min $110
SIGNATURE HAIR TREATMENT
This customized treatment addresses your hair needs. Relax while your stylist applies an exclusive serum and masque with a scalp massage technique that will rejuvenate tired strands and refresh
your look. Includes shampoo & style.
80-min $165
HAIR CARE
• Shampoo & Style $65+
• Shampoo, Cut & Style $80+
• Specialty Style $90+
• Treatment Cut $115+
• Single Process Color $145+
• Corrective Color By Consultation Only
• Partial Highlight $155+
• Full Highlight $180+
• Multicolor Highlight $195+
• Keratin Treatment $375+
• Keratin Express $150+
Keratin is for any hair type with frizz or curl seeking smoothing, manageability, and protection against humidity. Eliminates up to 98% of curl and frizz while restoring condition, shine and manageability. By consultation only.
To complete any hair service above, a haircut may be added for $40.
PACKAGES & SPECIALS
Create your own half or full day spa experience. Choose three or more 50-min or longer treatments per person in the spa and salon and take 15% off the entire package. We love to celebrate special occasions! Please call our reception desk for information on bridal services and special event or group pricing.
WAXING SERVICES
A variety of hair removal services are available for both men and women. Please call for pricing, reservations and to find out if waxing is suitable for your skin.
$25+
• Bikini
• Underarm
• Chin
• Lip
• Brow Shaping
• Chest
• Back
• Legs
• Face
+ denotes an add-on option to any 50-min or longer service, or a service that may have extended pricing due to product or service type needed to achieve desired results.
GIFT & PUNCH CARDS
Gift cards are always available for purchase at the spa reception desk. Purchase fix service enhancements and get the sixth free! Ask for a punch card on your next visit.
ACCESSORIES
Extend your Spa du Lac experience by taking home a selection of unique professional products and distinctive accessories. A wide assortment of bath & body products, apparel and unique gifts is available for purchase.